CLICK HERE TO GO BACK or use your browser's back button
FREE USA SHIPPING ON MOST ORDERS OVER $100*
All orders over $100 and up to 5 pounds
will be shipped FREE via FedEx SmartPost, FedEx Ground, or USPS Parcel Post anywhere in the Continental United States.
Orders over $100 that are over 5 pounds that are oversize will receive a $10 shipping credit toward the oversize shipping charges.
MOST ORDERS PLACED BY 3pm EST SHIP THE SAME DAY
Our late pick up time means that in many cases we can ship your order the same day if the order is placed before 1pm Mountain Time (3pm Eastern Time). If we cannot ship your entire order the same day we will notify you right away by phone or email and let you know the status of any backordered items.
Shipping prices are charged at the current quoted rates on each shipper's website and will vary depending on your location and the delivery method.
We try out best to have our shopping cart estimate the exact shipping cost based on all of the information we can obtain, however in some cases the estimate may be substantially lower than the actual shipping charge (in real life). There are 3 situations where this is somewhat likely to occur:
1) Bigger items that don't weigh a lot are charged extra based on their size or that need to be shipped in a separate package.
2) If part of your order ships from a location other than our main warehouse there may be an additional charge for the extra shipment.
If the actual price is (substantially) higher we will contact you about the higher cost before processing the order.
Please note there will be a $2.75 charge added to all orders shipped to a residential address.
Discreet Shipping
In most cases packages are shipped discreetly packed in plain boxes without our company name or other labels on the boxes, however this is not always the case automatically. Please let us know if you desire ultra-discreet shipping and we will take additional measures if needed to ensure you receive your package discreetly.
Online Tracking
Our system will notify you by email with a tracking number so that you may locate your shipment once it is in route.
Shipping Delivery Address Restrictions
Please note that we are only able to ship to a verified address of the credit card or other payment method used. If you need to have your package sent to a different address, please call us and we will try our best to accommodate your situation.

If a package is returned to us undelivered, you will be responsible for any incurred shipping costs, plus the cost of re-shipping the merchandise.
Shipping Addresses
We can only ship to authorized addresses listed with the issuing bank of the credit card. To ship to an address other than the billing address, you must call your issuing bank and add the desired shipping location as a temporary or permanent authorized address. Please call the toll free number on the back of your card and ask the operator to help you add an authorized shipping address to your account.
Estimated FedEx Ground Transit Shipping Times from our main warehouse in Colorado Springs: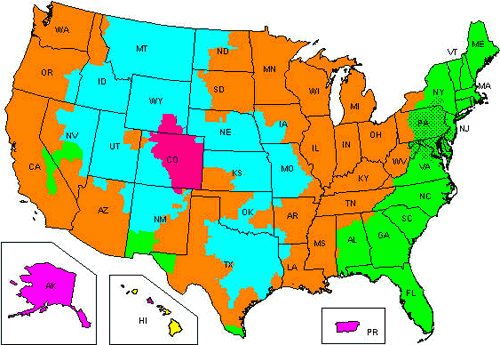 Estimated USPS Priority Mail Transit Shipping Times from our main warehouse in Colorado Springs: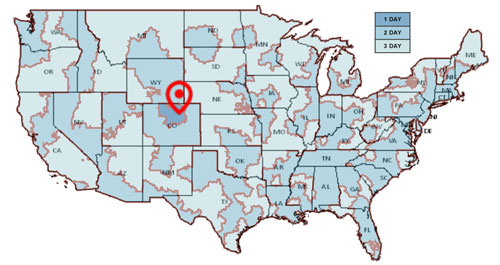 International Orders
All international orders are charged shipping at current quoted rates, plus these orders are subject to duties, taxes, tariffs, and other fees imposed by the country you have the merchandise sent to. These charges vary depending on the country and the items purchased. Most countries fees will be 10% - 20% of the total. You will be notified before we process your order with the exact total.
All international orders are shipped using USPS, FedEx or DHL. Normal time in shipping is 3-10 days, but may take longer depending on how quickly the shipment clears customs. If you would like to have your package shipped International Priority or by a different carrier, please email us and we will quote you a price. International orders placed by credit card require additional confirmation.