Alarm Clock Radio DVR Series Hidden Camera with Super Wide View Camera and No Pinhole V2

---
BROWSE OVER 100 MORE HIDDEN CAMERA MODELS:
---

Alarm Clock Radio DVR Series Hidden Camera with Super Wide View Camera and No Pinhole V2
&nbsp

Sale Price:
&nbsp


$148.88

WINTER SUPER SALE
Save an EXTRA 20% now!
Use coupon code WINTER20
Ends Tuesday 1/31/23
---
Product Description
PalmVID Pro Custom Series Alarm Clock Radio Hidden Camera with DVR
---
---

PalmVID Pro Custom Series - Hand-assembled in Colorado Springs, Colorado USA Since 1999

● Made with high-quality electronics that deliver excellent picture quality, low-light performance, and frame rates

● Made with high-quality enclosures that are better quality than the Import Series models

● This model can be custom-built to meet specific needs (call for details)

● FREE USA-Based LIFETIME Technical Support Included

● 18 Month Parts and Labor Warranty Included

● 30 Day Satisfaction Guarantee

---
Alarm Clock Radio with built-in Super Wide View "No Pinhole" HDTV hidden camera and HDTV DVR (Digital Video Recorder).
This hidden camera looks just like a normal household Alarm Clock Radio. On this model the camera is behind the tinted faceplate and there is "no pinhole". The camera and digital recorder are hidden so well that this item may be used in any room without being discovered.
The Alarm Clock Radio features are fully functional too so it will keep time, work as an alarm clock and play music from AM/FM radio stations.
RECOMMENDED AND POPULAR FOR MANY REASONS:
Super Wide View Camera covers much more area than a standard camera.

No pinhole for the camera lens makes it very covert.

Since this item functions normally as an Alarm Clock Radio it makes it nearly undetectable even if someone tries to use it.

The hidden camera and DVR video recorder have power and may work whenever the main wall power cord is plugged in. Full-time A/C wall power for continuous operation.
---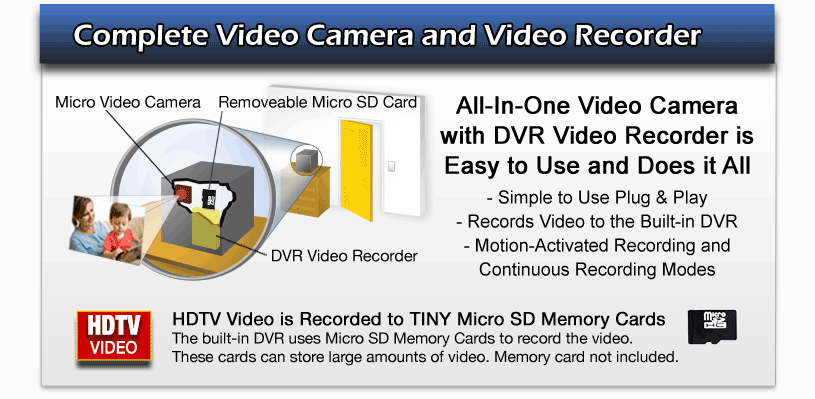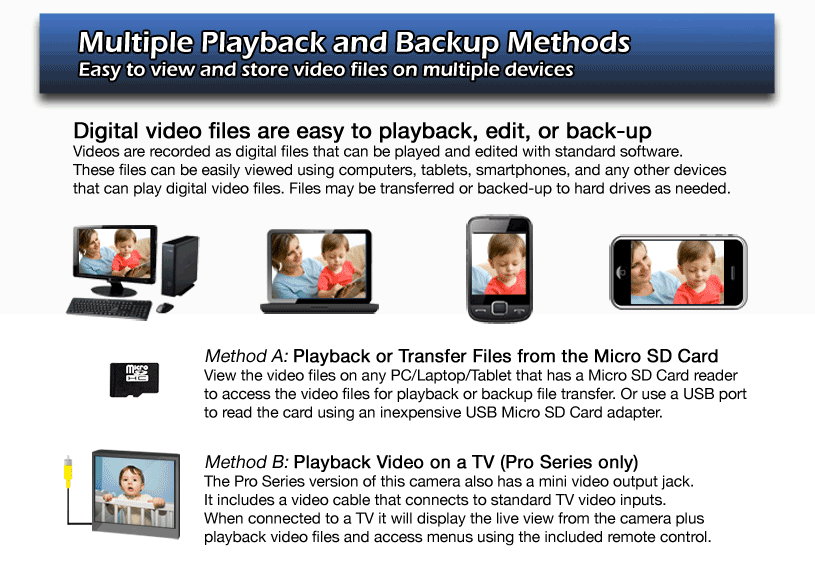 Both series are very capable of full time typical surveillance and nanny cam type applications.
Both series have the following features:
- HDTV 720p High Resolution Video Cameras
- Micro SD card DVR video recorder built-in
- Motion detection recording or continuous recording

The main advantages of the Pro Series are:
- Advanced CMOS camera image sensor and Advanced DVR
- Better image color and clarity
- Better low light performance
- Advanced motion recording modes
- Smaller video file sizes for more recording time
- Auto-recycle mode can record over oldest video when memory is full
- Video playback and on-screen menus when connected to a TV
- Easier to playback and easier to search recorded video
Series
DVR Lite Model
DVR Pro Model

Camera Information
Camera Type
CMOS Image Sensor
Advanced CMOS Image Sensor
Camera Resolution
HDTV 720p 1.3 Megapixel
HDTV 720p 1.3 Megapixel
Camera Low Light
OK
Very Good

DVR Information
Recording Resolution
1280x720
1280x720
Remote Control
Yes
Yes - Advanced
Time and Date Stamp
Yes
Yes
Motion Activated Recording
Yes - Basic
Yes - Advanced
File Type
AVI MJPEG
AVI H264
Recording Location
Micro SD Card
Micro SD Card
Memory Card Size
up to 32 GB
up to 512 GB
HDTV Recording Rate
~ 5 GB per Hour
~ 2 GB per Hour
Standard Resolution Recording Rate
N/A
~ 0.75 GB per Hour
Photo Snapshot Mode
Yes
Yes
Live Video TV Output
No
Yes
Playback on TV with Video Out
No
Yes
On Screen Menus
No
Yes
Configurable Video Quality Settings
No
Yes
Format SD Card with Device
No
Yes
Configurable Recording File Length
No
Yes
Auto Recycle Storage Overwrite
Yes
Yes
Firmware Upgradeable
Yes
Yes

Power Information
AC/DC Wall Power Supply
Yes (standard AC cord)
Yes (standard AC cord)
Main/Backup Battery
No
Yes (3-4 Hours)
Longer Main/Backup Batteries
No
Optional (call)

DVR Lite Series Sample Video - Coming Soon
---
DVR Pro Series Sample Video - Coming Soon



SEE THE DIFFERENCE!
Compare this camera to other Hidden Cameras
on the same screen at the same time with our:


---
Customers Who Viewed This Product Also Viewed

---
BROWSE OVER 100 MORE HIDDEN CAMERA MODELS: