Hide it Yourself Black Box Built-In DVR Series Nanny Cam
High Quality Video Cameras
1.3 MegaPixel CMOS Cameras with 1280x720 Video Resolution and built-in DVR that features H.264 video encoding for the best video quality possible.

Hide it yourself
These black box cameras can be used as a normal video camera or security camera. It has a pinhole lens with a wide field of view. Only the pinhole lens needs to be exposed. The camera could be further concealed by placing it behind other items with a just a small hole for the lens to see through.

Built-in DVR Video Recorder
The video is recorded internally to a removable Micro SD memory card (sold separately). Works with up to 128GB Micro SD cards. Video storage is approximately 2.5GB per hour of video recorded.

Never run out of recording space
When full this model can overwrite or "re-cycle". In this mode when the SD card is full the oldest video is deleted to make room for the newest recordings so you will always have the latest video available for review.
FULL-TIME POWER and/or BATTERY POWER
Includes a 5 VDC Wall Power cord that can provide full-time power and/or charge the battery. The built-in battery can be used to power the camera or as a backup battery. When the power cord is used for main camera power the battery will recharge until full and it will function as a backup battery if the main power goes out.
MOTION DETECTION RECORDING MODE
Both the Lite and Pro Series have video-based motion-activated recording mode. This type of motion detection saves some battery life when it isn't actively recording, but the battery still drains fairly quickly because the camera is always on. The camera needs to stay on to detect motion by "watching" to see if anything is moving in the video. The video recording is triggered instantly when any motion is detected in the video.
Wireless Remote Control Included
Control recording modes, start/stop recording manually, plus access on-screen menus and other functions
Digital Video Playback
The video files are recorded as AVI (H.264) so they can be viewed on almost any PC, Mac, or other devices using popular free software like Windows Media Player or Kmplayer and they can be easily edited by most video editors. Simply remove the Micro SD Card you are using to transfer the files.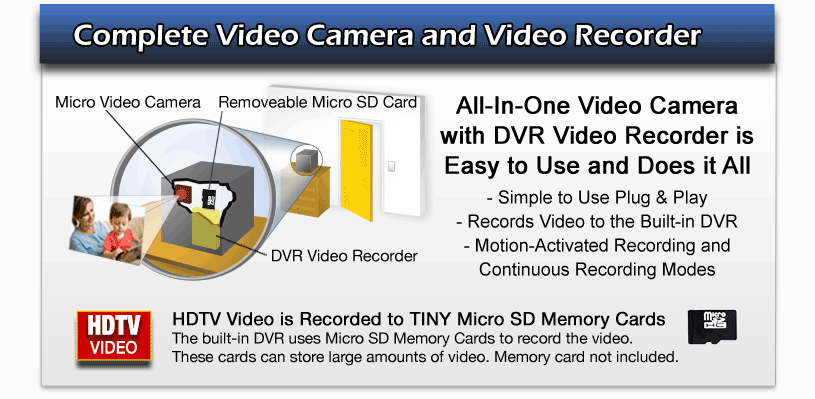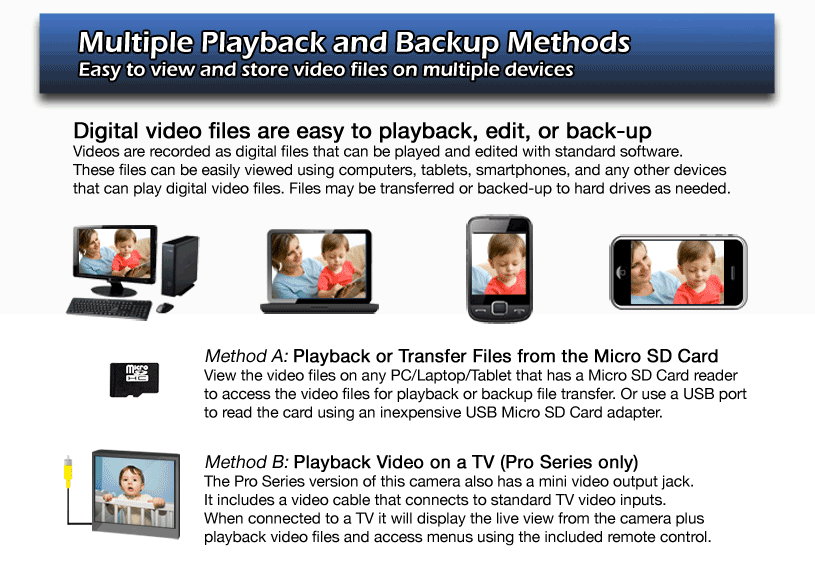 Both series are very capable of full time typical surveillance and nanny cam type applications.
Both series have the following features:
- HDTV 720p High Resolution Video Cameras
- Micro SD card DVR video recorder built-in
- Motion detection recording or continuous recording

The main advantages of the Pro Series are:
- Advanced CMOS camera image sensor and Advanced DVR
- Better image color and clarity
- Better low light performance
- Advanced motion recording modes
- Smaller video file sizes for more recording time
- Auto-recycle mode can record over oldest video when memory is full
- Video playback and on-screen menus when connected to a TV
- Easier to playback and easier to search recorded video
Series
DVR Lite Model
DVR Pro Model

Camera Information
Camera Type
CMOS Image Sensor
Advanced CMOS Image Sensor
Camera Resolution
HDTV 720p 1.3 Megapixel
HDTV 720p 1.3 Megapixel
Camera Low Light
Good
Very Good

DVR Information
Recording Resolution
1280x720
1280x720
Remote Control
Yes
Yes - Advanced
Time and Date Stamp
Yes
Yes
Motion Activated Recording
Yes - Basic
Yes - Advanced
File Type
AVI MJPEG
AVI H264
Recording Location
Micro SD Card
Micro SD Card
Memory Card Size
up to 128 GB
up to 128 GB
HDTV Recording Rate
~ 3 GB per Hour
~ 2 GB per Hour
Standard Resolution Recording Rate
N/A
~ 0.75 GB per Hour
Photo Snapshot Mode
Yes
Yes
Live Video TV Output
Yes
Yes
Playback on TV with Video Out
No
Yes
On Screen Menus
No
Yes
Configurable Video Quality Settings
No
Yes
Format SD Card with Device
No
Yes
Configurable Recording File Length
No
Yes
Auto Recycle Storage Overwrite
No
Yes
Firmware Upgradable
No
Yes

Power Information
DC Power Requirement
5VDC
5VDC
AC/DC Wall Power Supply
Yes (included)
Yes (included)

Battery Information
Battery Life Using Motion Activated Recording Modes
Standard Battery (included)
2-4 hours
2-4 hours
Extra-Life Battery (optional)
12-16 hours
12-16 hours
Super-Life Battery (optional)
24-32 hours
24-32 hours

DVR Lite Series Sample Video
---
DVR Pro Series Sample Video



SEE THE DIFFERENCE!
Compare this camera to other Hidden Cameras
on the same screen at the same time with our: