WiFi-DVR-LITE Series Wireless IP Camera DIY Do It Yourself Hidden Camera Kit
This mini hidden camera kit contains a WiFi IP HDTV Hidden Camera with a pinhole lens plus a HDTV DVR digital video recorder built-in. It includes everything you need to make your own WiFi hidden camera with full remote video accessibility.
v
View, Playback, and Recording from anywhere in the world over the internet using any windows PC, laptop PC, iPhones, iPads, Android Smartphones and Android Tablets plus Live Remote View and Playback available on Mac PC's and Laptops.
The pinhole lens camera only needs a tiny hole to see through so this tiny camera can be hidden even further by hiding it behind an object or inside an object or a box with just a pinhole or slot or other opening for the 1/16 inch pinhole lens.
This DIY kit includes an extra-long camera cable to make installation very easy. This kit also includes your choice of circuit board mounts. There are many ways to configure this kit to work for many applications. View the other images to see some of the options.
HDTV pinhole lens video camera
Built-in DVR digital video recorder
Built-in WiFi transmitter for internet connectivity
View LIVE or PLAYBACK or RECORD video using any Laptop or Desktop PC or any Android or iPhone or Tablet devices
Record internally to the built-in DVR (works with up to 512GB Micro SD Cards - not included)
The wireless WiFi signal lets the camera connect to any home or office internet WiFi network
The wireless WiFi sigal travels through objects, walls, and floors
FREE iPHONE and ANDROID PHONE APPS
NO MONTHLY FEES
FREE LIFETIME USA-BASED TECH SUPPORT INCLUDED
---
---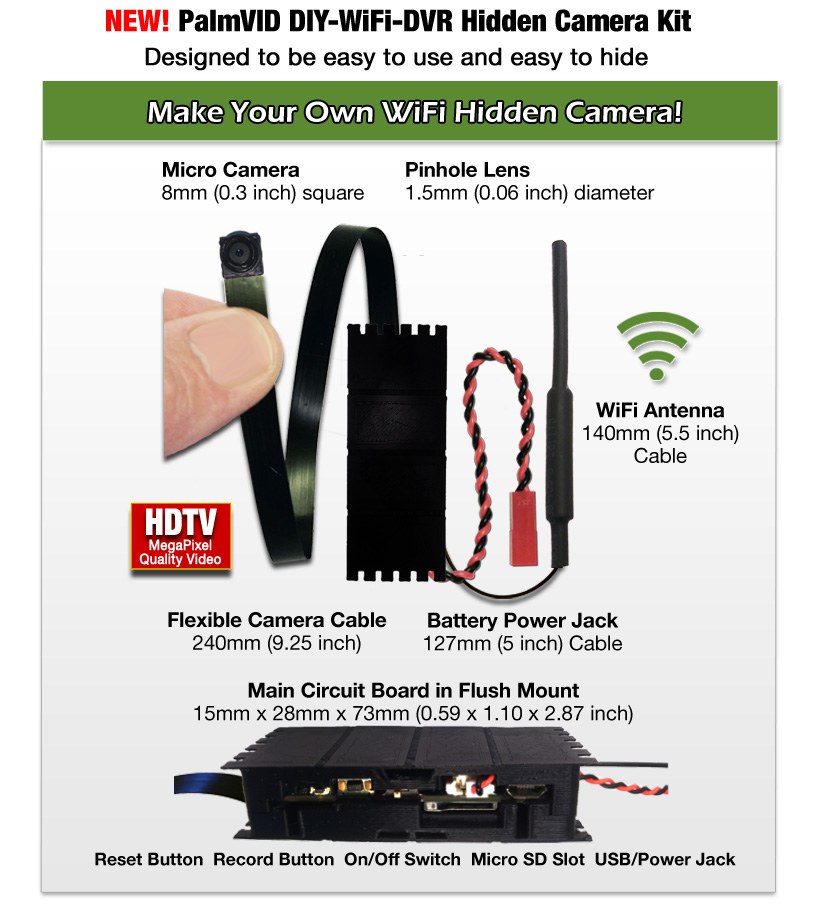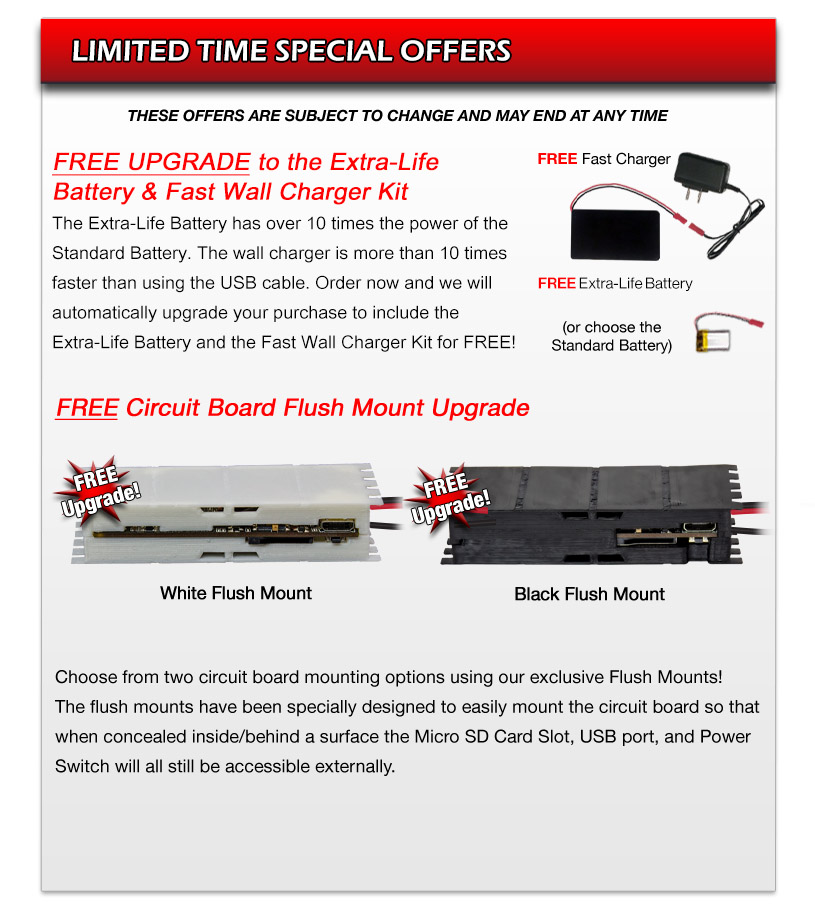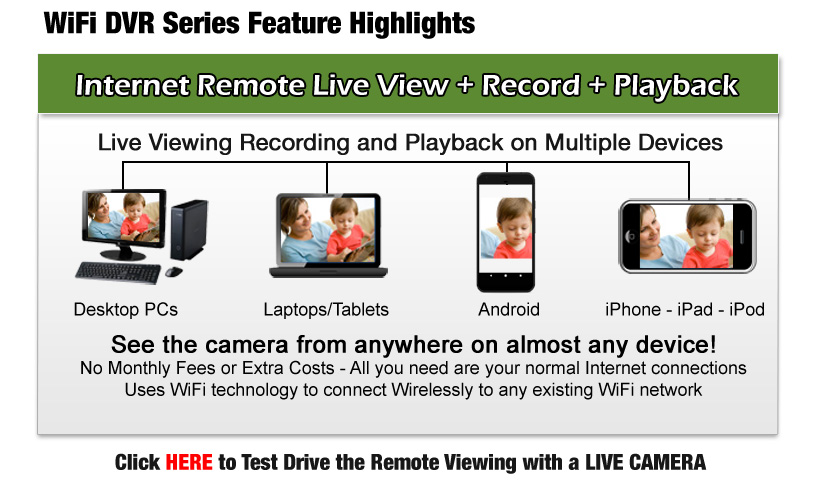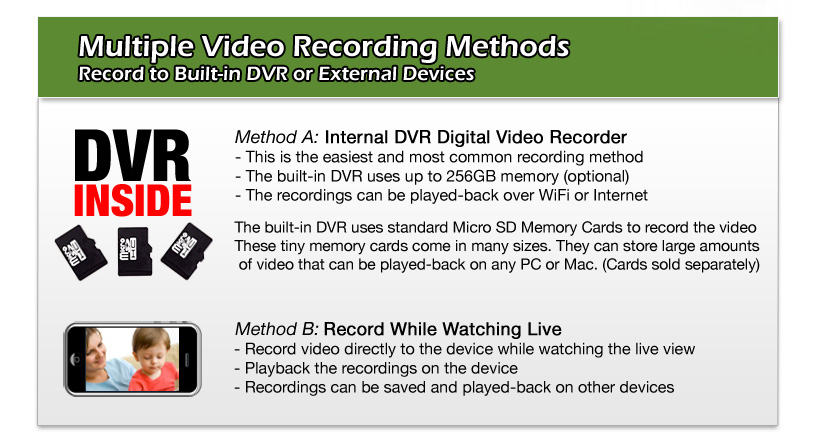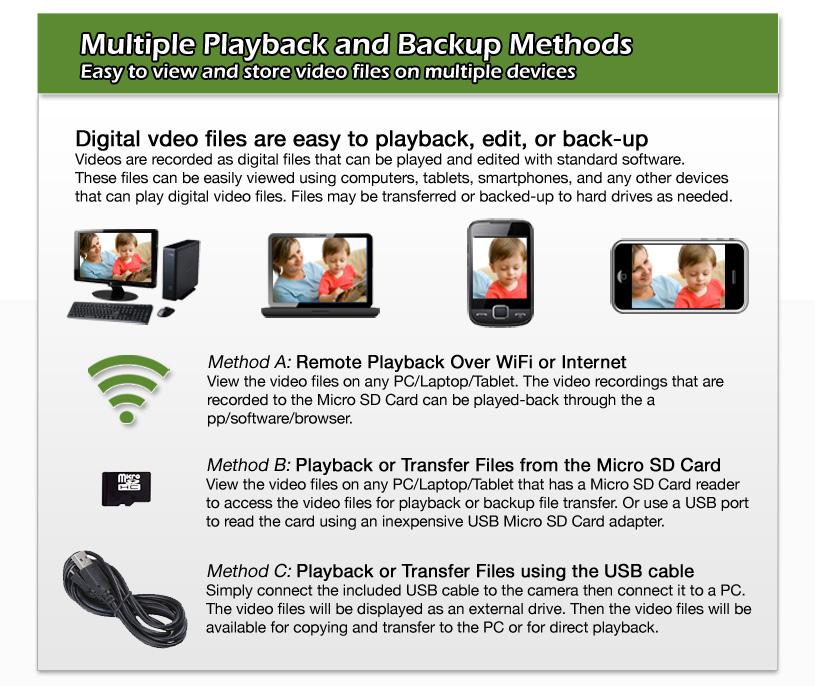 - High Resolution Video Cameras
- DVR video recorder built-in
- Motion detection recording or continuous recording
- View Live/Record/Playback using iPhones, iPads, Android Smartphones and Tablets, Windows PCs and Laptops



WiFi-Lite Series

Camera Information
Camera Resolution
HDTV 720p 1.3 Megapixel
Camera Low Light
OK
Adjustable View Camera
Yes

Built-in DVR Video Recorder Information
Recording Resolution
1280x720
Frames Per Second
20 FPS
Time and Date Stamp
Yes
Motion Activated Recording
Yes - Basic
File Type
MOV
Recording Locations
Internal: Memory Card

External: Phone, Tablet
Memory Size
up to 512 GB (optional)
Recording Time
~ 1 GB per Hour
Memory Speed
Class 10 or Higher
User-Accessible Memory Card
Yes
Configurable Video Quality Settings
Yes
Configurable Recording File Length
Yes
Auto Recycle Storage Overwrite
Yes

Live Remote Viewing, Recording, and Playback Methods
Live Demo WiFi-Lite
iPhone, iPad,
Android Phone, Tabletet
Pro EZCam App
Windows PC, Laptop
Pro EZCam App (with emulator)
Mac PC, Laptop
Pro EZCam App (with emulator)
Video Playback
Pro EZCam App

Power Information
Full-Time Wall Power
Yes
Main/Backup Battery
Included (12-13 Hours)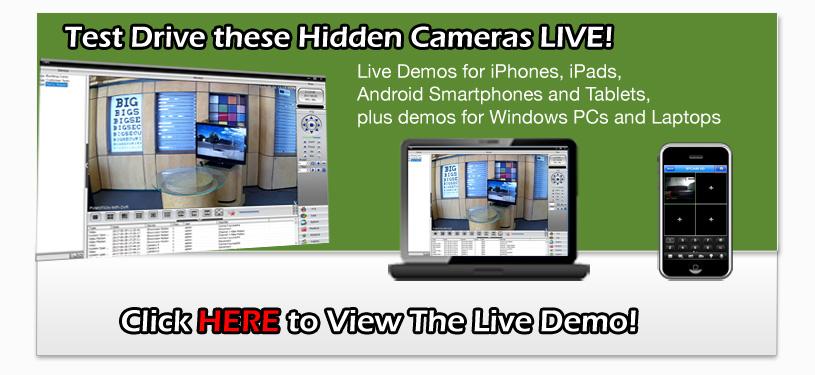 ---
Important Notes Regarding Use and Installation:
This kit should only be purchased or used by persons that are completely familiar with the proper handling, installation, and use of circuit-board level components.
The camera ribbon cable and other components of this item are very fragile.
This item may be easily damaged by impacts, electric discharges, static electricity, and short circuits caused by conductive objects or liquids coming into contact with the components.
Parts of this item will generate heat during charging and during normal operation.
This item should not be installed or used near any flammable materials or vapors
This item should not be installed or used in any enclosed area without adequate venting and/or heat sinks.
The use of incorrect power supplies, batteries, chargers, or other power sources may cause overheating and/or permanent damage to this unit.
---
This DIY kit uses the same components as the PalmVID WiFi-DVR-LITE Series Pre-Made Hidden Cameras Below:
(All hidden camera items below have this kit professionally pre-installed)