Hidden spy camera disguised as a fully functional portable power pack with built-in hidden camera and built-in DVR that records video to a Micro SD card. This model features pinhole camera lens that is expertly disguised behind tinted plastic, plus invisible InfraRed LEDs for night vision!
Plus this model is also a WiFi IP Network Camera that is capable of recording internally LIVE remote viewing AND playback PLUS recording with PCs Laptops iPhones iPads and Android Devices using standard web browsers or free mobile apps!
High Quality Video
5 MegaPixel CMOS Camera with 1920x1080 Streaming Video Resolution and 1280x720 Recording Video Resolution
View LIVE Video or Playback from Anywhere!
Live remote viewing on almost any device connected to the internet or local network. Use your smartphone or tablet when on the road or your PC at the office to keep an eye on what's happening live.
Fully Functional Power Pack
This power pack works - use it to recharge your smart phone, bluetooth earphones, or any other device that recharges through USB. This model also has a functional battery indicator, when plugged in to charge, you can see exactly how charged the battery is using the easy-to-read LED display.
In-App Motion Alarm Notifications
Receive app notifications when motion happens in front of this camera. Never miss out on important events.
Secure Wireless Access
This camera supports WPA and WPA2 encryption, so you can view your video over the internet or over WiFi with confidence. This camera also requires a username and password to access, so even if someone else is using your WiFi, they won't be able to tell there is a camera connected.
Records 2 Ways - Local and/or IP Network Internet
Record internally to a removable Micro SD memory card (sold separately). Use up to a 512GB card. When the card is full the oldest video is recycled to make room for the newer video.
Record to remote PC's and other devices over the local network or over the internet.
Multiple recording modes
Manual mode - records 24/7
Motion detection mode will only record when it sees movement in the video
Full Time Power or Battery Power
When the charging cable is connected then it will power the camera too so you can record 24/7 or for as long as you need. The built-in rechargeable battery will run this camera for up to 24 hours on a full charge - the longest battery life of any WiFi camera we offer!
Playback is Easy
View the recorded files over the internet or remove the Micro SD memory card to view the recorded video on any PC (or Mac)
Digital Playback
The video files are recorded as ASF (H.264) so they can be viewed on almost any PC, Mac, or other devices using popular free software like VLC media player. Once video is recorded to the camera's Micro SD card, you can view those recordings remotely from your smart phone or PC as well!
Simple to Set Up and Use
Android and iPhone Compatible
Streaming Video Resolution 1920x1080
Recording Video Resolution 1280x720
Video Format AVI
FPS 20FPS
View Angle approx. 90 degrees
Low Light Illumination 1 LUX (without IR LED)
Low Light Illumination 0 LUX (with IR LED)
Memory Micro SD Card Max Size 512GB
Memory Consumption ~1GB/hour
Continuous Recording Time up to 16 Hours (Approximate)
Charging time 6-8 hours
Dimensions: 5 1/4" x 2 3/4" x 1/2" (approximate)
What's Included:
Power Pack Hidden Camera
Approx. 3' USB Power/Data Cable
User Manual
---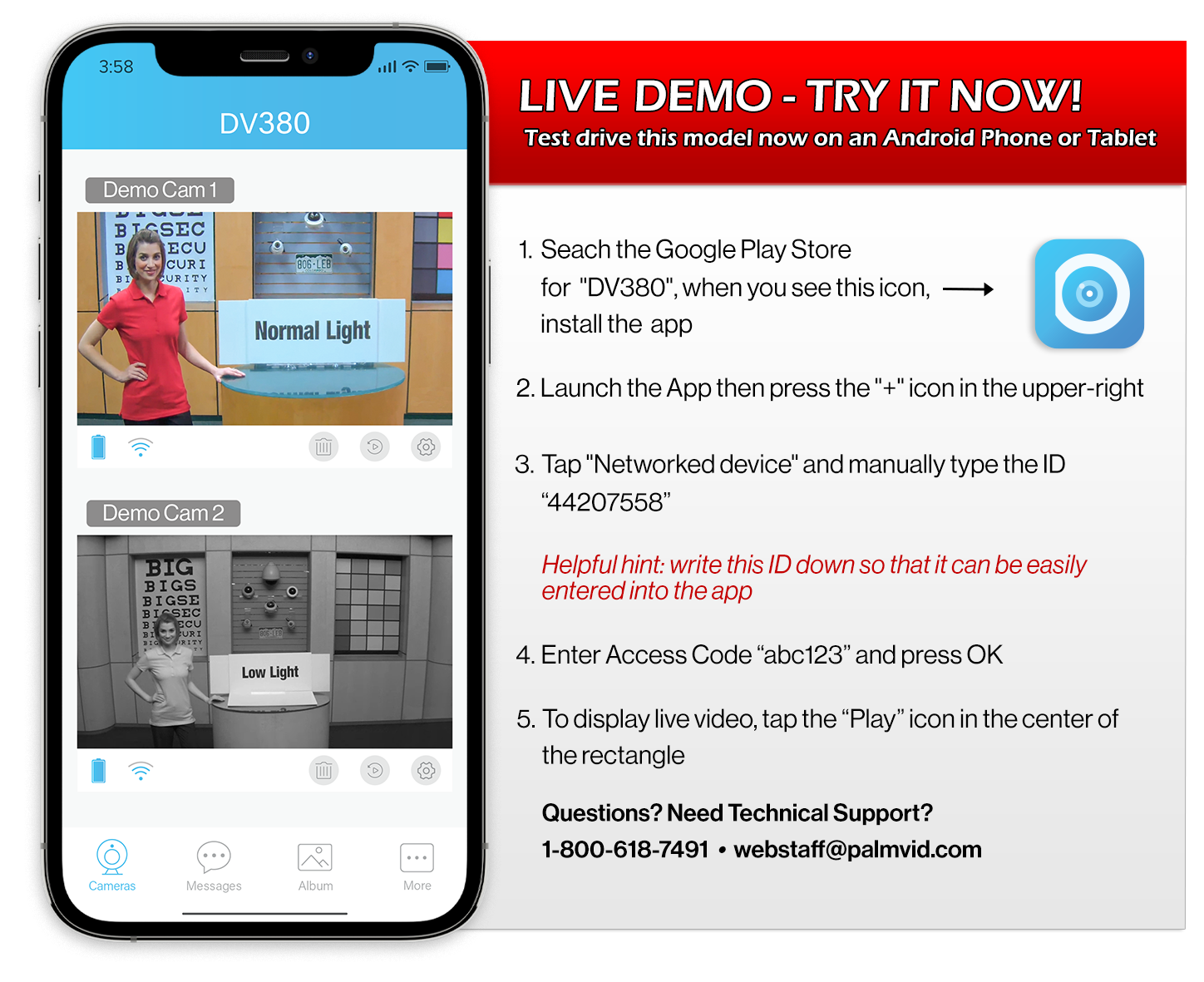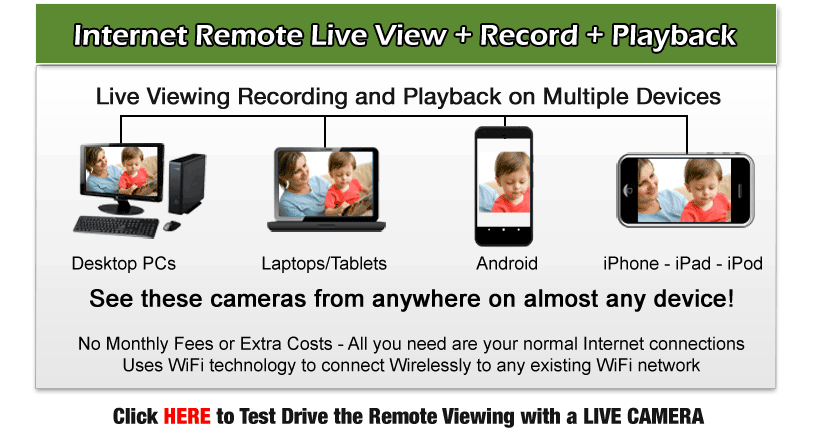 Easy to setup and use for professional surveillance and nannycam type applications

View live video and playback recorded videos from anywhere over the internet using iPhones, iPads, Android Smartphones and Tablets, Windows PC's and Laptops, Mac PC's and Laptops

Receive motion alerts/notifications and/or email alerts on iPhones, iPads, Android Smartphones, and Android Tablets through the app software when motion is detected

View a single camera in full-screen mode or up to 4 cameras can be viewed at the same time in split-screen mode

Digital Zoom and Pan/Move during live view and playback

HDTV 1080p High Resolution Video Camera
Advanced camera image sensor
Excellent image color and clarity
Ultra low-light performance
Wide field of view

Advanced DVR (Digital Video Recorder) built-in
Works with up to 512GB Micro SD memory cards (sold separately)
Motion detection recording mode
Continuous recording mode


Camera Information
Camera Resolution
HDTV 1080p
Low Light Sensitivity
Very Good
Ultra Low Light Mode
Yes

Built-in DVR Video Recorder Information
Recording Locations



Internal: DVR Digital Video Recorder

External: iPhones, iPads, Android Smartphones,
Android Tablets, Windows PC's and Laptops
HDTV Recording Rate

Uses about 1 GB of memory
per hour of video recorded
Memory Card Size/Capacity
(memory cards sold separately)
Works with up to 512 GB
Micro SD Memory Cards
Micro SD Memory Card
Speed Requirements
High-Speed Rated
Class 6 or 10, or UHS 1 or 3
Recording Resolution
HDTV 720p
File Type
AVI
Time and Date Stamp
Yes
Motion Activated Recording Mode
Yes
Continuous Recording Mode
Yes
Auto Recycle/Loop Recording
Yes
Configurable Recording File Length
Yes
Configurable Video Quality Settings
Yes

Live Remote Viewing, Recording, and Playback
Try it out now! ► Live Demo WiFi-Series
iPhones, iPads, Android
Smartphones and Tablets
Live View, Playback, and Record
with FREE App Software
Windows PC's and Laptops

Live View, Playback and Record
with Emulator
Mac PC's and Laptops

Live View and Playback
with Emulator
Live View Resolution
HDTV up to 1080p
Live View Multi-Camera
Split-Screen Views
Yes
(Up to 4 Cameras)

Power Information
Full-Time Wall Power
Yes includes wall power adapter and USB Cable
Rechargeable Battery Power
Yes includes (1) PalmVID Super-Life Battery Pack
Battery Charger
Yes includes (1) PalmVID Battery Fast Charger
Battery Run Time
Up to 12 Hours

WiFi Series Sample Video
SEE THE DIFFERENCE!
Compare this camera to other Hidden Cameras
on the same screen at the same time with our: